Blog |

Newsletter
Protect Yourself from Scams this Holiday Season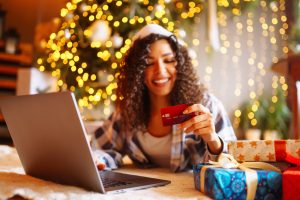 In today's world, protecting yourself from fraud is increasingly difficult as scams are becoming more and more sophisticated. Even the savviest individuals are not immune to falling victim to identity theft or other schemes. We always say if something seems too good to be true, it likely is, however new threats present themselves daily and your credit union is committed to helping you avoid them.
As we approach the holiday season, two common scams surround buying and selling online: non-delivery scams and non-payment scams.
Non-delivery scams involve a buyer making a purchase online for an item and paying, but never receiving the item. Many times, hard to find gifts and toys appear to be available on questionable websites, and gift givers, desperate to obtain these items let their guard down when making the purchase. These items are often never shipped, and the buyer is left out the money, and even worse, sometimes have compromised their personal and payment information by putting it in the wrong hands.
Non-payment scams involve goods and services being shipped and completed and payment never being received. Bad actors will often peruse Facebook marketplace and resale groups, providing invalid payments and even some sending fake invoices to people who purchased items from others, hoping to be paid before the seller sends their own invoices. Many fraudsters will also request payment via a pre-paid gift card or other means which do not provide buyer protection or recourse.
According to The Internet Crime Complaint Center's (IC3) 2021 Report, non-payment or non-delivery scams cost people more than $337 million. So, how can you avoid falling victim to these common holiday scams?
Know who you're buying from or selling to.
Do your research, especially if you are purchasing from a company for the first time. Check for reviews on the site or company to be sure they are legit.
If you are using an online auction site or marketplace, check the buyer/seller's feedback rating. Avoid users with negative ratings and be wary of those who have no ratings or transactions at all.
When you visit a website, check the URL to be sure it is secure and legitimate. A site should have https in the web address to indicate it is a secure site. If it does not have that, do not enter your personal information on that site.
Be wary of sellers who post an auction or advertisement as if they reside in the U.S., then respond to questions by stating they are out of the country on business, family emergency, or similar reasons.
Avoid buyers who request their purchase be shipped using a certain method to avoid customs or taxes inside another country.
Be careful how you pay.
When purchasing, be sure to choose methods that provide purchase protection. Read the policies to be sure the type of transaction is covered. For example, Facebook Pay does not offer buyer protection on purchases made through third party sites, local pickups, messenger transactions, and other messaging service transactions. Venmo also does not guarantee buyer or seller protection for transactions regardless of the method of payment, unless expressly offered to you by Venmo. Cash App also does not offer buyer or seller protection and encourages users to make sure they know the person they are transacting with. Paypal does offer buyer and seller protection, however, avoid the "Friends and Family" option on Paypal, even if a seller insists, because only the "Goods and Services" option offers protection.
When you shop online, use a credit card and check your statement regularly. If you see any suspicious transactions, contact your financial institution right away.
Never wire money directly to a seller.
Avoid paying for items with pre-paid gift cards. In these scams, a seller will ask you to send them a gift card number and PIN. Instead of using that gift card for your payment, the scammer will steal the funds, and you'll never receive your item.
Stay on top of Communications and Shipping.
When you make a purchase online, always get tracking numbers for items you buy. Keep open communication with the seller for tracking information so you can make sure your items have been shipped and can follow the delivery process.
When selling online, be suspect of any credit card purchases where the address of the cardholder does not match the shipping address. Always receive the cardholder's authorization before shipping any products.
During the holiday season, when you may have a lot of email notifications for purchases and tracking, it may be helpful to make a folder in your email inbox to be sure items ordered and shipped are not forgotten about or lost in the shuffle. This way, you can act on lost or unshipped items.
Be aware and protect your information.
Don't click any suspicious links or attachments in emails, on websites, or on social media. Phishing scams and similar crimes get you to click on links and give up personal information like your name, password, and bank account number. In some cases, you may unknowingly download malware to your device.