Blog |

Newsletter
Focus on Security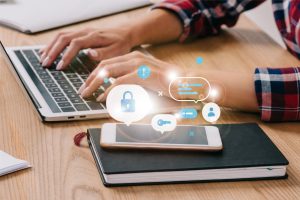 If you have logged in to online or mobile banking over the past few months, you likely have noticed that your two-factor authentication (2FA) options have changed. As of early October, email is no longer offered as an option for 2FA, and members must choose an alternative option.
Any time we make a change such as this, we have your best interest in mind. Due to an increase in email compromises and cyber fraud, we've determined that for the protection of our members, email should no longer be considered a secure option to authenticate online and mobile banking logins. If you have not yet set up an alternative authentication method besides email in online or mobile banking, please contact us at 215-612-5900. If you currently have a secondary option for authentication, such as a phone number, it will default to this option.
It is vital for your security to always ensure that your information is up to date with your financial institution. We ask that members take a moment to be sure your email address, phone number, and address are correct on your account. Having this information helps us help you quicker if you have any kind of security issues such as identity theft or other types of fraud.
How do I update my contact information in Online and Mobile Banking?
To update your information in the Freedom Mobile App, select "More" in the bottom right corner, then select "Profile" under "My Accounts". In Online Banking, select "Settings" under the down arrow near your name in the top right corner, and all options to change information are under the "User Profile" area.
How do I update my 2FA device?
Navigate to 'Settings'. Within 'Settings', scroll down to 'Alerts & Security' and select 'More'. Scroll down the page until you see a section titled 'Two-factor authentication'. If 2FA is already enabled, your active authentication methods will display. If you have only an email listed, you must add an additional authentication method!
Are there other options to add additional authentication methods?
An app on your phone: For this method, you will need to have an authenticator app such as Google Authenticator downloaded to your phone.
Text or landline: To add a phone, you will need to be able to receive a text message or phone call to the phone number listed.
Recovery codes: If you do not have access to any authentication device, you can enable recovery codes. To set these up, select 'Add recovery codes'. You will see a screen with 10 unique codes. It is extremely important that you write these codes down in a secure location. Once copied, click 'Activate these codes'.