Blog |

Debt Management

Newsletter
Financial Health And Wellness Are Within Reach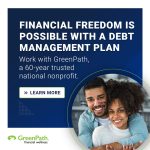 At your Credit Union, we care about your financial health. That's why we've partnered with trusted national non-profit GreenPath Financial Wellness to provide you with individualized counseling, guidance, and educational resources, including:
Free Financial Counseling– You have access to free, one-on-one financial counseling, and debt counseling delivered by caring, certified experts. They'll help you to understand your situation, learn about options, and make a plan to meet your goals.
Debt Management Services – If you have high-interest credit card debt, a GreenPath debt management plan may be able to help lower your interest rates so you can pay off debt faster.
Housing Services– Take advantage of foreclosure prevention services, home buyer preparation assistance, and reverse mortgage counseling.
Credit Report Review– Understand your personal credit report and how to improve your score.
Student Loan Counseling– Understand repayment options that can postpone or lower your payments. Learn the pros and cons of each strategy so you can make an informed decision on which is best for you.
Call GreenPath today at 877-337-3399, and one of their kind, caring, NFCC-certified counselors will help you access the resources and experiences you need to make informed financial decisions and find your path to a bright financial future. It's free, no-pressure, and 100% confidential.